Here is the gist, face masks are in short supply for healthcare professionals. The CDC says that cloth face masks are better than nothing. So let's get to making some face masks help protect medical works, extend the life of N-95 masks, and for immunocompromised people. Heck, everyone can wear a DIY face mask if they want. These instructions are specifically for batch sewing, making lots of DIY face masks as quickly and efficiently as possible to meet the needs of our brave and hardworking health care staff. The pattern I am using has the options for a mold-able nose bridge and a filter opening. This is an easy project that even a beginner can do.
Update: More information on kids sizes now available. I've added cutting notes to a make a mask fit a 6 year old.
The World is Quickly Changing!
Do you want updates? Information on this page may change as we learn more cloth masks and filters. If you would like to be kept up to date, please subscribe to my newsletter. You will get updates on this page, as well as simple sewing projects, and get access to my sewing resource library "freebie library". Interested? Sign up below.
Newsletter Subscribe
Fabric masks? Are you crazy?
N-95 filter masks are the hospital standard when dealing with infectious disease. When these face masks are not available or are in short supply, the CDC says that DIY cloth face masks are better than nothing. So let's get to making some to help protect medical works, extend the life of N-95 masks, and for immunocompromised people. Heck, everyone can wear a DIY face mask if they want.
Fabric masks without filters can be used on their own or over medical masks to make them last longer by protecting them from contamination. When body fluids come in contact with a mask it should be discarded. A fabric mask covering the medical mask saves the medical masks which are in short supply. Some medical workers, like EMTs are only issued one N-95 mask a day. The fabric mask can be thrown in the hospital or home laundry and used again after washing and drying on high heat.
Disclaimer: I'm not a medical professional or scientist. I'm a seamstress with an MA in Museum Studies. I am simply taking information from a ton of places and sticking it in one place. I'll add links to the original sources of information.
Metric note: I'm aware that my conversions are not exact. I rounded the numbers to make it easy for you. This DIY face mask does not require massive precision.
Mask Pattern
There are basically 2 mask shapes. Fitted and pleated, with a hybrid of the two also possible. The instructions on this page are for a pleated mask which is very similar to the Deaconess pattern and looks like a surgical mask. If you want a fitted mask with no pleats check out Anna's Fitted Vet Mask.
Anna's Fitted Vet Mask
Anna worked with a mask she had and made design alterations to fit a wide range of medium to large faces in her vet office. Download the PDF here or just save this JPG. This mask pattern has been changed a little and now is available in 3 sizes. Check it out in the Smile Mask Post.
Anna's Fitted Vet Mask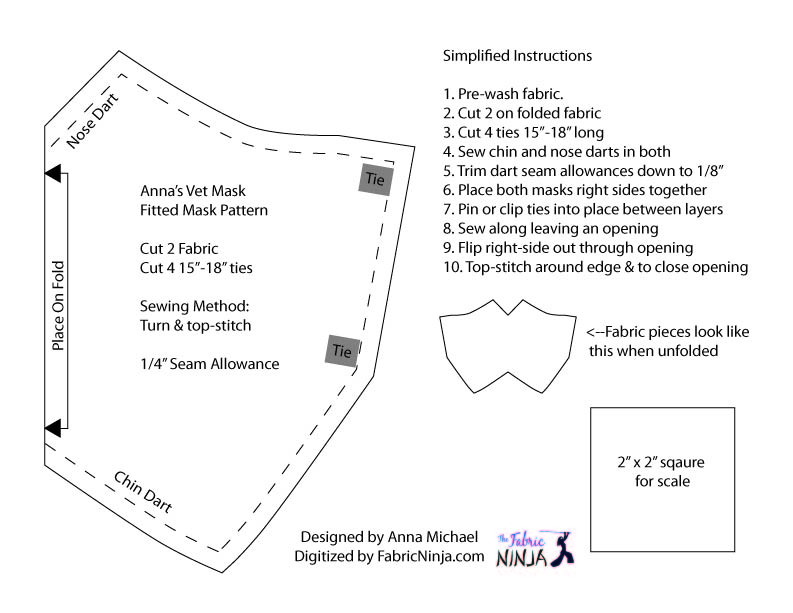 Watch the Video here: https://youtu.be/UJhmQLw-r9Y
The Pleated Mask
Written Instructions You Can Print!
Don't have reliable web service? Download these instructions when you do. No pictures, but very through instructions for every step.
Mask Instructions – 4 Pages. PDF includes links.
This is a video talking about a bunch of mask making materials you may already have at home.
Supply List
How to Sew Fast Video!
Getting Ready
Pre-wash your fabric. Seriously I mean it. You have to get any shrinking out of these. Hot wash, hot dry if you have the ability. No washer at home? Wash in the sink with hot water and iron it dry. You don't have to pre-wash elastic.
Kids Size is biased on a 6 year old.
Cutting
Mark The Pleats – if you are good and eyeballing stuff, skip this step.
Or use a fork! Seriously
For kids sizes (fit model is 6 years old) mark 2 pleats
Prepare Your Sewing Machine
Next to the sewing machine you should have
Read this process before you start sewing.
Seam allowance is 1/4″ (1cm) or the edge of your presser foot. Do you best, don't worry if you are a little off.
Flipping Right-side Out
Mold-able nose bridge
Make The Pleats
Closing the Bottom
Do you want to be able to add a filter to the inside of your mask? If you want to add a filter then you are done. Leave the bottom open so you can stick filters inside. You can sew the seam allowance to the inside of the opening to make the hole prettier. It's optional.
Done! Take a picture and show off you mask on the Fabric Ninja Facebook Group.
Making masks to donate?
Ask your community. Know a nurse, doctor, or EMT? Ask them if they need masks or if their department does. Keep things as local as possible and save on postage.
Don't just show up at a hospital with masks or other supplies. Make sure you have arranged drop-off with the hospital so that they are expecting and want your delivery. They will arrange for you to deliver them in a safe way.
The Relief Crafters of America are coordinating mask needs. You can request masks or find where to send masks.
Want to remember this? Save this DIY Mask Blog to Pinterest!
This content was originally published here.